QUALITY ASSURANCE & TESTING
In today's scenario, businesses are facing a lot of constraints, but when it comes to testing, it would not be wrong to say that there is no room for any error. Testing as an engineering discipline requires nothing, but some special tools, skills, experience, knowledge, methodologies and peculiar talent.
Now you can have a flexible business partner that helps your organization to stay ahead of competition in the marketplace, hence increases the profitability. Yes, Codigent is one such name that reduces your time as well as efforts with its best testing services and finally meets your business needs.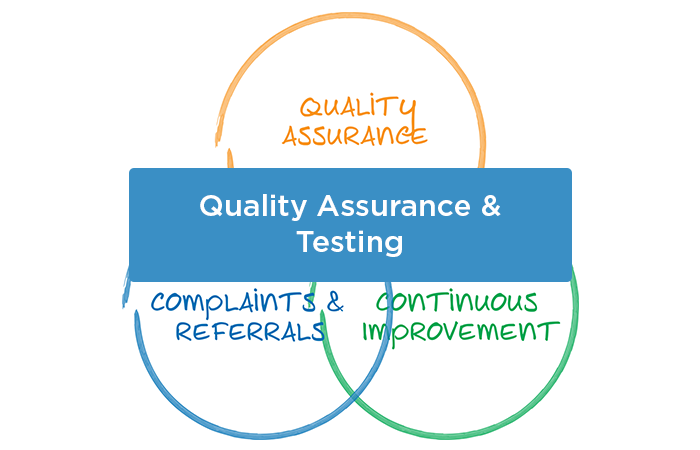 Solutions We Offer
System Testing
With our highly specialized team of testers, we are always ready to provide you with the system testing, conducted on a complete end to end system. By using the wide set of tools as well as advanced testing technologies, our team provides the most effective solutions to fulfill the specified requirements of all the clients.
System Integration Testing
With all the resources at the disposal, we provide you with the system integration testing services for the product functionality in different situations. Our primary focus is to test the software system components and their coexistence with other systems, within the targeted environment.
Regression Testing
We provide a full range of regression testing services with manual and automated regression test suites. We know very well that regression testing is essential for any growing system, hence leave no stone unturned to provide you with the best testing services.
User Acceptance Testing
We have a dedicated team of professionals, expert in functional testing of any system. Our highly experienced and professional experts have the best of technical and functional knowledge when it comes to performing UAT.
Backend Testing
Backend Testing is a very crucial component which includes testing the integration between the application and the database. Recognized for its expertise, at Codigent, we have a highly talented backend testing team which makes sure that all the changes made in the database will reflect in the front end application.
---